Promoting Dignity – Curriculum Production and Online Cooperation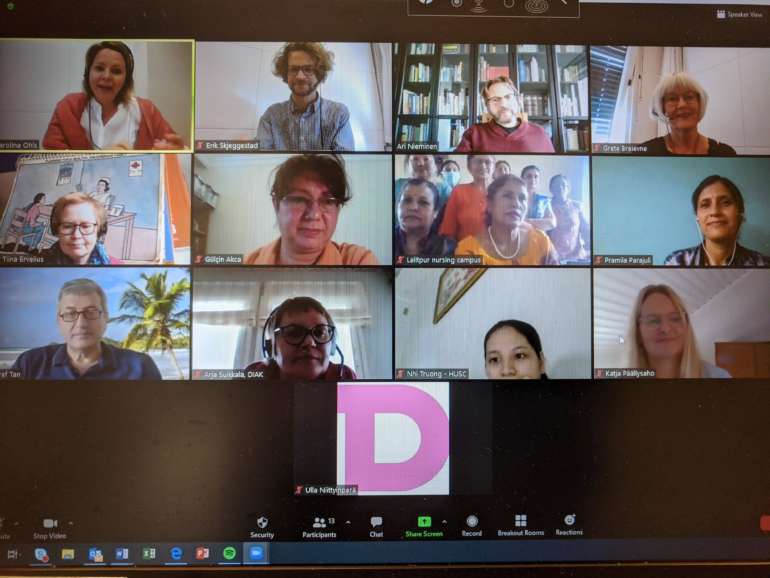 The DVINE project has passed its midpoint, and it is time to consider its workings and outline its future results. The most important DVINE product will be its curriculum, currently titled "Holistic tools for Multi-professional Welfare Services – A Competence Based Curriculum to Promote Dignity". The title of the curriculum reveals its objectives.
First, holistic support and the care of people necessitates cooperation among healthcare and social work professionals. "Welfare services" denote activities of health care and social work professionals. It is important to perceive service users as whole human beings and not as cases of maladies.
However, multi-professional cooperation is not always needed. For instance, if a person has hurt her leg and has no other issues, it would suffice to just take care of the leg. But if she has fallen because she was drunk and drinking excessively, she would profit from the support of social work professionals. Holistic assessment and communication are needed to assess whether it is only the leg that needs a cure or whether a broken limb is an indicator of other problems.
"Tools" in the title of the curriculum refer to methods of interaction, development, and research used in professional work. In addition, tools also mean equipment, books, workbooks, videos, and all kinds of learning materials produced by DVINE. See, for instance, the blog Teaching Materials for Studying Communication and Sign Language.
Secondly, the last part of the curriculum title, "A Competence Based Curriculum to Promote Dignity" reveals that teaching and learning methods concentrate directly to competencies achieved by students. Reference to "dignity" is quite complicated because dignity and related words, such as "respect", "worth", "acceptance", "valuable", have various meanings in diverse situations and societies. Yet, it seems sensible that some sort of worth granted by other people and some level of self-respect are needed for the well-being of all human beings. Hence, enhancing dignity is a main principle in the curriculum.
For information about the project, refer to the leaflet and project poster.
Six Study Units
The DVINE curriculum has six study units:
Supporting welfare multi-professionally
Common welfare needs of people and how social and health professionals together can support their fulfilment (multi-professional cooperation).
Innovating and co-creating services
Developing and co-creating welfare services together with students, professionals, service users, and other local actors.
Qualitative research methods
Qualitative methods with emphasis on participatory methods that give voice to the service users.
Communication and sign language
Communication and interaction skills and sign language.
Community development
Holistic approach on community development that enhances dignity.
Holistic work in conditions of distress
Solving local distress situations multi-professionally.
The study units entail 400 hours of student study time. It is not necessary that participating universities realise all the study units exactly as they are described. Instead, the curriculum establishes a toolbox that DVINE partners and others can use flexibly as they wish.
Fruits of Online Cooperation
Because of the geographical dispersion of its participants, the DVINE project was planned to cooperate online from the very beginning. Thanks to the Covid-19 pandemic, this online character of the project has grown even more pronounced. In September 2020, the project organised a one-week online seminar on the content of the curriculum.
Here are some observations from the seminar and online cooperation of the project:
Online cooperation has been functioning quite well. We have been using Google´s Classroom platform and Zoom for our online work. However, sometimes data connection failures have disrupted communication, especially in and from Nepal.
Online cooperation has in fact enhanced inclusiveness of the project because it has enabled broader participation in project activities. For instance, online connections made it possible that students from universities from Nepal, Vietnam, and other participating institutions could also take part in the September seminar that was organised by project partners from Norway (VID). In total, 19 students and 35 other participants registered for the seminar.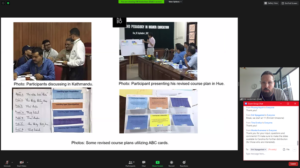 We have used online tools both in synchronous and asynchronous modes. This has eased working across time zones and freed us to some degree from timetable limitations.
A good example of the new kinds of possibilities that online tools offer is the bachelor thesis written by Noora Sylman (Diak). While doing her thesis, Noora facilitated an online co-creation process with social work students from Hue University of Sciences. The thesis is available on the net. It is written in Finnish, but the abstract is in English.
Text: Dr. Ari Nieminen, project manager