Multiprofessionalism and co-working  – a chance or a challenge?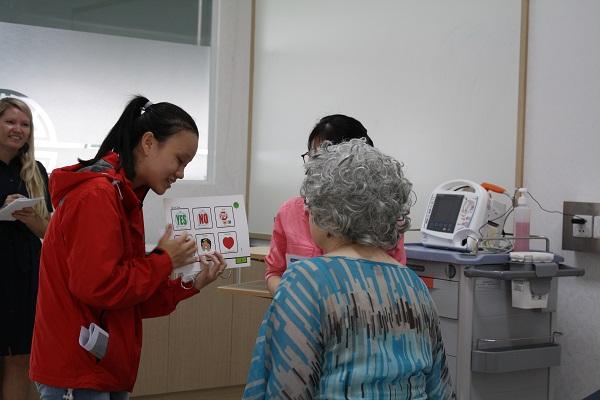 Multidiciplinary cooperation is usually thought to be easy, but it can also be challenging.  Take a look at the seven chances and seven challenges our multidisciplinary project team has encountered.
We had a multiprofessional and a multicultural planning team, and our students worked in multidiscipline groups while realizing two intensive courses in Hue, Vietnam and Kathmandu, Nepal.
In Finland, multiprofessional work is usually done in smaller groups and for a certain task.  In Turkey, multiprofessional work is a common approach on the way from bench to clinic in the health care system and social works performed by experts.
Cultural differences to be solved
In order to cope with the challenges of the priorities, communication problems, ethnicity, different educational and social background, individual conflicts and social taboos are usually complicated – and being problematic – have to be solved. However, it may also be more motivating to work in harmony in terms of multi-professionalism. At the end of year one of the DVINE project partners as a team, got more experience about the health and social system in Nepal and Vietnam.
In Nepal we asked opinions from teachers about challenges in multiprofessionalism. They answered that the main challenges are communication gaps, prioritizing, level of motivation and ego issues, that is, discussions about who's profession the most valuable.
Seven positive chances
The first chance is to get students to work in the project. All in all, we managed to attract 60 local intensive course students and three students from Finland.
The second chance is to see new things in one's own special area. In intensive courses we had a great opportunity to learn health care tools like ABCDE, ISBAR and NEWS. Also, social work methods like photovoice, experimental learning and health geography were introduced. We had the chance to see different communities and hospitals in partner countries and meet deaf people who use sign language. Multidiscipline working method is a way to learn something new about humanity and dignity.
The third chance is to meet different people and professions. You get a narrow view, if you only talk with your colleagues in your country and in your faculty.  
The fourth chance is  to learn diplomacy.
The fifth chance is to learn to communicate with other group members. We should not assume that others know what we know or think. We need to explain things to each other.
The sixth chance is to learn good manners. It may be challenging to explain same things about dozen times, but patience is the key when sharing information.
The seventh chance is that we learn to be proud of our own knowledge and to be open to listen and meet other people.
Seven challenges
One challenge is to be part of the group. Professionals may have great egos and they may compete of who's idea is the best.
The second challenge is the time. We need to have enough time to discuss and build up common understanding and trust in meetings. We also learn different working habits; some are slow and some quick in planning.
The third challenge regards concepts. We need to develop common concepts.
The fourth challenge is decision making. There should be a common understanding about who decides and when.
The fifth challenge is priority, what is important for the co-operation. We should share some basic values and attitudes about how to work for example with persons with disabilities. Persons with disabilities should have the power to decide about their own life.
The sixth challenge is communication, especially written or interpreted information. Interpreters need time to prepare and materials should be available to them beforehand. Writing can be understood in a wrong way, so in meeting and during phone discussion it is better to ask questions and check understanding.
The seventh challenge is ad hoc solutions. If we encounter a problem, how do we work together under pressure? Our former vice-rector Dr. Mrs. Sirola once said: If you are in a hurry, you should walk slowly. That's still true, if you start to mess up in a hurry, you may make mistakes. When in a hurry, you should breath, think and not to panic.
Conclusion
We learnt that it is essential to have time to build up common understanding when working in a multicultural, multiprofessional setting. There will always be a lack of time even when we have planned it to be more than is needed.
It is valuable to take time to discuss about roles, procedure, resources and the goals. It enables trust between everyone in the team and then helps respecting different point of views. Good manners and diplomacy, good problem-solving skills and true listening of each other help avoiding misunderstanding and building multiprofessional and multidiscipline working.
Links:
https://www.sciencedirect.com/science/article/abs/pii/S1876139911002647
Text by: Ulla Niittyinperä, Kristiina Rosqvist, Tiina Ervelius, Gülçin Akca